What is Cost of Living?
The term cost of living refers to the amount of money a person needs in order to sustain a certain standard of living in a particular location at a specific period of time. If you are planning to move to a new location, this type of information would be very helpful for you, as you assess whether or not you can afford to relocate in that area. Agencies determine the cost of living of a particular location by checking the prices of a representative sample of basic goods and services, such as housing, food, taxes, transportation, and healthcare, then taking into account how each of these items affect an individual's annual budget. As an index, the cost of living reflects the percentage variance of the cost of basic expenses between two or more locations, with the values under the primary location constantly set at 100, while those of the locations being compared to it may be higher or lower than 100, depending on whether the cost of basic expenses there are more expensive or cheaper than those in the primary location.
2019 Cost of Living Index in Atlanta, GA
Atlanta, Georgia is a wonderful city to relocate to, not only because of its small-town charm, but also because of its thriving economy. Home to almost half a million people, this city has attracted 89,000 new residents in 2017 because of its recent economic growth which has been continuously improving year after year. In fact, Atlanta's economy has been predicted to perform better than the rest of the nation and attract venture capitalists in 2019.
If you are considering moving to Atlanta and you want to be sure that you are financially capable of living a comfortable life in this city, the table below would show you how the basic expenses in this location cost relative to the state of Georgia and the rest of the nation:
Cost of Living in Atlanta, GA
| Index | Atlanta | Georgia | United States |
| --- | --- | --- | --- |
| Grocery | 92.6 | 97.5 | 100 |
| Health | 90.8 | 96 | 100 |
| Housing | 126.6 | 92.1 | 100 |
| Utilities | 103.6 | 103.2 | 100 |
| Transportation | 144 | 121.3 | 100 |
| Miscellaneous | 99.8 | 94.8 | 100 |
| Overall | 115.4 | 100.3 | 100 |
As you can see from the Cost of Living table above, the highest expense in Atlanta is transportation, with a value of 144. The next most expensive expense is housing, at 126.6, followed by utilities, at 103.6. The rest of the basic expenses are lower compared to the rest of the nation.
Cost of Food and Groceries in Atlanta, GA
According to data from Numbeo, a meal at an inexpensive restaurant in Atlanta, Georgia has an average price of $15, while a three-course meal for two in a mid-range restaurant costs around $50. The average monthly food spending of Atlanta residents is estimated at $312.65, which is lower compared to the national average which is $324.33 national average.
If you happen to be a foodie, you'll love living in Atlanta. There's a plethora of food venues for you to enjoy all the tasty dishes you can expect in a Southern city. Aside from the popular food chains like Waffle House and Chick-Fil-A, you'll find a thriving independent restaurant scene here, as well. And, there's an annual Atlanta Food and Wine Festival where you can try out everything this city has to offer. The price for a one-day pass is $175, and a three-day pass for the weekend costs $500.
Cost of Utilities in Atlanta, GA
The basic package of utilities for a typical 915-square foot apartment in Atlanta, GA costs around $151.66. This is includive of electricity, heating, water, and garbage. If you would like to add internet, this would be an additional $64 a month, only a couple dollars more than the national average which is $62.51.
Atlanta, GA Housing Costs
According to the National Association of Realtors, the median sales price of a single-family home in the Atlanta metro area is $216,100, much lower than the national median price for homes sold which is $234,400. This is great news if you are planning to buy a home when you relocate here. Compared to other East Coast cities, like New York or Washington DC, where the median sales prices of homes are at $403,900 and $417,400, respectively, owning a property in Atlanta is much more attainable for most residents. Renting in Atlanta is much more expensive, though. The median monthly rent for apartments in this city is $988, $161 higher than the national level which is $827.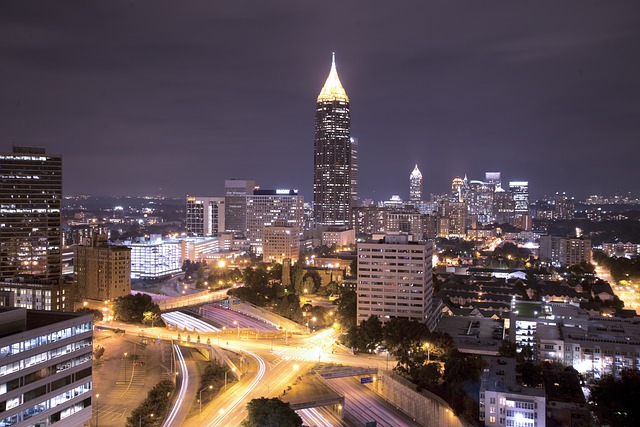 Transportation Costs in Atlanta, GA
Atlanta is a driving town, as residents often take long commutes and heavy traffic is the norm. According to 2018 data from EducatedDriver.org, the average daily commute time in Atlanta is 62 minutes, which is one of the worst in the United States. The average price of a gallon of regular gas is $2.72, which is slightly more expensive than the Georgia state average of $2.66, but cheaper compared to the national average of $2.86. If you would need to take public transport via the Metropolitan Atlanta Rapid Transit Authority (MARTA), a 30-day public transit pass costs $95.
Atlanta, GA Taxes
Atlanta has a sales tax rate of 8.90%. The state of Georgia holds statewide sales tax holidays twice a year. The first is usually around the end of July, which is meant to help parents with their back-to-school shopping. The second tax holiday does not have a fixed schedule and happens at different times each year. The average effective property tax rate in Atlanta's Fulton County is 1.07% and the residents' median property tax payment is $2,692, which is the highest in the state. Georgia residents pay a top marginal state income tax rate of 6%. This applies to filers with taxable income of $7,000 or more.
Moving to Atlanta, GA
If you are planning to relocate to Atlanta, Georgia and buy a house, learning about the cost of living in this city can give you an accurate idea how the move could possibly affect your budget and help you determine if you can afford to buy a home. If you want to know more about your home options here, please feel free to call us at 678-442-1509 or send us an email at info@AtlantaDreamLiving.com and we will be more than happy to show you all the available properties that would fit your preferences and budget.